ICBA starts genome-wide association studies of quinoa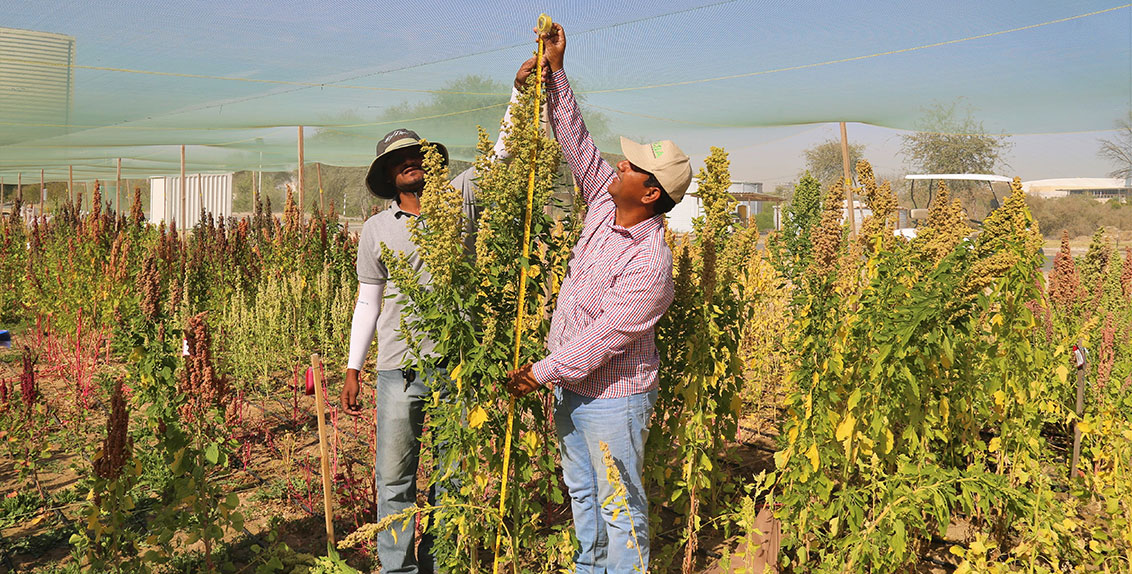 The International Center for Biosaline Agriculture (ICBA) has joined forces with the Max Planck Institute, Germany, and the BGI Group, one of the world's largest genomics companies, to conduct genome-wide association studies (GWAS) of quinoa.
As part of GWAS, scientists have begun analyzing 190 genotypes of quinoa at ICBA's research station in Dubai, the UAE, for different traits like tolerance to different levels of salinity; flowering duration; plant height; panicle length; branching; days to maturity; seed yield; seed weight; and seed saponin.
The main goal is to identify genes or quantitative trait loci (QTLs) responsible for agronomic and biochemical characters in quinoa and use those genes or QTLs in breeding to improve its yield, quality, and adaptability in marginal environments.
Marginal environments are areas of the world that are affected by climate change, water scarcity, salinity and other unfavorable conditions, making them less suitable for cultivating traditional crops like rice, wheat, and maize. However, plants such as quinoa are naturally adapted to harsh environments. Quinoa's exceptional resilience and nutritional profile have earned it a reputation as a super crop. It does well in saline soils and drought-prone and water-scarce agroecosystems.
Since 2007, ICBA has been leading a global program on quinoa jointly with national and international partners to evaluate the plant's performance under marginal conditions. To date the center has identified five quinoa varieties (ICBA-Q1, ICBA-Q2, ICBA-Q3, ICBA-Q4, and ICBA-Q5) that are suited to the environmental conditions of the Gulf region, the Middle East and North Africa, and Central Asia and the Caucasus. These varieties have shown good performance and have been cultivated by farmers in several countries, including Egypt, India, Kyrgyzstan, Morocco, Pakistan, Spain, Tajikistan and the UAE.
In Morocco, for example, a whole value chain has been developed around quinoa under the Rehamna project, which is funded by Canada's International Development Research Centre (IDRC/CRDI) and implemented in Rehamna Province in collaboration with the Mohammed VI Polytechnic University (UM6P) and the Ministry of Agriculture, Fisheries, Rural Development, Water and Forests of Morocco. As a result of this work, the five varieties have recently been registered in the national catalog of the species and varieties of cultivable plants in Morocco.
Under GWAS, ICBA is also working to develop sweet varieties of quinoa with reduced content of saponin, a compound which makes grains bitter. Saponin can be removed by repeated washing or dehulling, but these methods increase post-harvest processing costs. Although there are a few quinoa genotypes with low saponin content, their performance has not been found to be very good under marginal conditions of the Middle East and North Africa, as well as Central Asia.
The project aims to ultimately breed high-yielding early-maturing (90-100 days) quinoa varieties with high levels of abiotic (salinity, drought, and heat) tolerance for marginal areas; as well as develop associated best management practices and optimum post-harvest management practices.